Just a small sampling of the hundreds of happy "TAILS" at NCVC ! ! !
"Baileys"

"Baileys" came in due to stalled labor after delivering only one puppy at home. She had previously had puppies without any difficulties, so her owners knew she needed help immediately to save Bailey's and her puppies. We made her comfortable surrounded by the veterinary team, including Dr. Ludwig and her owner in our quiet, sunlit BIRTHING SUITE positioned away from noise and distractions. We set up for a cesarean section in case surgical intervention was necessary. After some time and administration of Oxytocin to promote her contractions, Bailey's was able to have 5 beautiful little female puppies. Happy Valentine's Day to "Baileys" and her new family!!
---
"Chip"
Chip came to us for a second opinion with a very extensive medical history and was unable to walk. His loyal owner Amy was doing all that she could to help him, but he was in constant pain and could no longer walk or even support himself. After blood tests, physical therapy, including water treadmill and laser treatments, and many medication trials, it was determined that Chip has an autoimmune disease that is attacking his body. We are happy to report that overall, he is doing better with medical management of his condition. Although there is no cure for his disease, with the loving care of his owner and his vet care team including, Dr. Ludwig and Dr. Hurst, he is living his best life right now.
We have all been amazed at his resilience and how he continues to be a happy dog despite all that he has been through. His pain is under control now and he can walk with some support! Keep smiling Chip!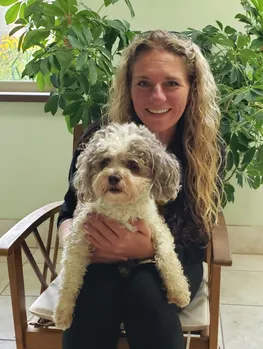 ---
"Belle"
Belle arrived for her orthopedic consultation having a very difficult time walking on both of her back legs. After examination by Dr. Riggle, she was found to have torn ACL's in both of her hind legs. She did absolutely great with her first surgery and 8 short weeks later was back for her second surgery on the other leg. Two months later, she was taking longer walks and enjoying swimming as part of her rehabilitation! Such a sweet girl and wonderful patient!
---
---
---
---
---
---