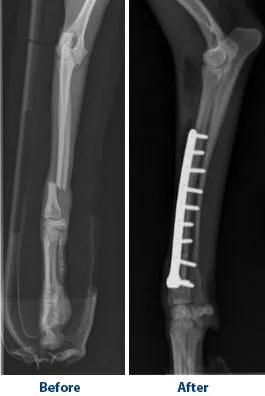 We are proud to offer a full range of orthopedic services including screenings, diagnosis, treatment and rehabilitation. Our skilled doctors have 18 and over 38 years of experience for conditions including cruciate ligament tears, patella luxation, fractures and conditions of aging.
At our state of the art facilities we offer DIGITAL X-RAYS, AND DIGATHERMAL IMAGING to aid in diagnosing conditions. There are fully equipped modern surgical suites in both the Phillips and Park Falls locations should your pet require surgical intervention.
For continuation of care we have orthopedic rehabilitation which includes the use of THERAPEUTIC LASER TREATMENTS and our WATER TREADMILL the only one in our area! The use of both decreases pain and inflammation as well as increases strength. These are helpful for a variety of conditions including treatment of ARTHRITIS, INJURY and to promote healing after ORTHOPEDIC SURGERIES.